Client Success Story: Vanessa Hilton
Flamenco Dressmaker, Owner of 'Poppi Chartreuse – Fashion for Flamencas'.
https://web.facebook.com/poppichartreuse/
Adelaide, Australia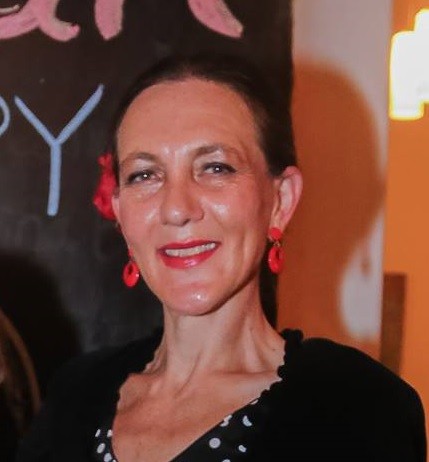 ---
BEFORE & AFTER
Before I began Anke's coaching sessions, I called myself "The Queen of Sabotage and Worry". My energy was being spent on 'hoping'…hoping I was on the right track, hoping people would like me and my work, hoping I would be able to pay the rent, hoping I was doing the right thing, hoping I was going to be OK, hoping things would improve. I felt, and looked, like every day was sucking the life out of me. I just 'surviving' and I thought that was just how things were going to be for a small business owner. The black circles under my eyes and the nervous rashes that kept popping up were 'the way things are for now'. Driving to appointments and marketing events usually meant stopping for 'emergencies' to relieve my digestive issues.
As I started to absorb Anke's coaching sessions, I felt a shift in how I was 'turning up', not just to my client's appointments and events, but to EVERYTHING. I was turning up to start the day with a skip in my step, a confidence and joy, which was growing every day. This feeling stayed with me all day! And carried me into the evenings when I would teach, rehearse, or perform flamenco. When I looked in the mirror each morning, I started to see a new person. No more black circles and rashes, but a person who looked, and felt, happy and healthy.
I approached my work with confidence, certainty, and genuine love, instead of just 'hope'. Not surprisingly, my sales and client data base increased and before I knew it I had exceeded my monthly sales target. My customer's satisfaction increased, as did the quality and production of my garments. Which in turn lead to more sales and more customers. I now go to appointments and events with a big smile, excitement, and the expectations of success.
Anke was able to identify the thoughts and habits which were holding me back, and guided me to better business practices and daily habits. Anke's coaching sessions have been an invaluable part of my personal and business development. I have been energised and inspired by Anke's understanding, support, and genuine desire to make a difference.
With her coaching, I have seen my sales, operations and productivity improve on a daily basis. But most surprising of all is the change I have felt in myself. I don't have time for sabotaging and worrying anymore, because I am busy running a thriving sewing business - my dream job!
MY SITUATION BEFORE REACHING OUT.
My Business…
Before reaching out to Anke, my business had drained me financially, physically, and emotionally. I was running at a loss by compromising my pricing, my time, my resources, and my standards, to keep everyone else happy. And everyone else WAS happy. EXCEPT ME. In short, I was desperate.
I thought I had to say yes to everything and everyone if I wanted to keep the dream of having my own flamenco dressmaking business alive. But what I had actually done was bury my ideas, creativity, and potential in a mess of desperation, inexperience, and confusion.
I knew that I had the skills, knowledge and personal qualities to create a thriving business, but I had let other people dictate how I worked. I realised that I needed to find someone who had already travelled this road and could provide me with very specific advice and support.
So I started to Google, and found Anke's website. After a few weeks of looking at Anke's videos and resources, I knew I had found a wealth of information. I contacted her with a question about pricing. Her response was prompt, valuable and welcoming. I knew I had found someone who was knowledgeable, experienced, and real. While I did not realise it at the time, this initial connection lead to my business and professional development being revitalised and elevated beyond my expectations.
When I Reached Out…and my one big challenge that made me look for help!
I started my business on the 24th September 2015. Exactly 3 months later, on Christmas Eve, all I had in my pantry was a packet of rice and 2 apples. I could not afford to buy my loved ones Christmas presents or go out with my friends. I had been invited by friends to 'bring a plate and bottle of wine' to the beach for a Christmas Eve celebration. I lied about why I could not go. I woke up on Christmas morning and finished an order for a dancer who was to perform on New Year's Eve. I spent the day ranting to myself "I am NEVER going to let this happen again!" This was the day when I realised that I needed help, and I set about finding it.
So, after my Christmas dinner of rice and an apple, I started researching business coaching and advice. Every night, I would read a blog by a successful entrepreneur. I kept notes. I copied out all the lists of "50 Things You Can Do To Improve Your Business NOW". I had a growing collection of words and advice that made me feel hopeful for a little while, but made no difference to my business's bottom line.
I eventually booked a session with a local business coach. When I walked out of our first session, I sat in my car and cried for half an hour. She had made me feel like a failure and I knew that the advice she gave me would be a disaster to my business.
Shortly after this meeting, I discovered Anke's website. I had started to wish for someone who was familiar with the challenges of starting a business from scratch, who understood what it meant to take risks in order to live your dream. I was inspired by Anke's personal journey. I had found someone who had made her dream work for her.
FINDING A NEW BUSINESS MENTOR.
I never had any doubts that I needed help. I had doubts though, about finding the RIGHT person to help me. My business was out of my control and I needed very specific advice for me to get back that control.
With Anke as my business coach, I have seen huge improvements in my profitability, productivity and personal growth.
Anke has been very direct and clear about ways to improve my business, and shares her experience and knowledge in a relaxed and personal way.
Her mentoring sessions constantly inspire and energise me. I have finished every mentoring session with Anke filled with motivation, inspiration and ideas to keep my business moving forward. Anke generously shares her resources, time, and knowledge, and has worked intuitively to provide me with the right answers at the right time.
Because Anke has invested in her own personal development and business growth, she has the experience and resources to pass onto those she mentors. Anke has set me goals and personal challenges which have developed my business and my self in the best possible way.
Her objective and honest insights into business management and personal development have opened up new ways of thinking, which have continually benefited my business and daily habits. I still eat rice, but only as a side dish to steak, salmon and fresh vegetables.
GIVING IT UP.
It is a risk to give up the rat race. You lose a predictable income, a predictable place to go every day. You lose a predictable outcome and a predictable routine. You risk not knowing what each day will bring. You risk having to live a life that only you can control and determine. You will have to be responsible for what you think, make, do, and learn. Every. Single. Day. You risk letting new ways, new people, and new ideas into your life. You risk being surprised at what you do, and don't, know.
Doing it alone is harder than you think. And that is why I recommend having a business mentor. And also why I recommend taking the risk.
Ps: I never had any doubts or concerns about investing in coaching sessions because I knew that I was in the bottom of that 'canyon'. My choices where to keep wandering around in circles in the canyon, or do whatever I had to do to get out.
If you are ready to get YOUR sewing business off the ground or get it running smoothly and have fun book your "Sew in the Flow" Sewing Business Planning Session now.